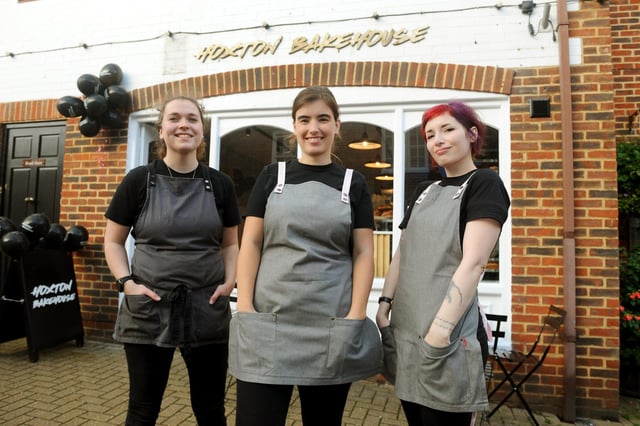 Hoxton Bakehouse officially opened in Brook Street, Bishop's Waltham on Thursday, October 22 2020. Pictured is: (l-r) Kate Bartlett, area manager for Hoxton Bakehouse, Kate Lister, barista, and Viktoria Nagy, store manager. Picture: Sarah Standing (221020-6187)
Here is a list of the places across Portsmouth, Fareham, Gosport, Havant and further afield that are offering help to families.
If your business or organisation is offering free meals (for half term, for longer or already do) and you want to be part of this list, please email millie.salkeld@thenews.co.uk
Portsmouth
Wild Thyme Wholefoods, Southsea
Landport Community Centre
Free half-term meals for pupils and their families at Arundel Court Academy and ARK Dickens Academy receiving free school meals.
Duke of Buckingham pub, Old Portsmouth
From Tuesday the pub is offering 100 free meals for children for four days
Parents must ring the pub by 5pm on Sunday to allow the team to book the orders.
The Lord John Russell, Southsea
Free packed lunches for kids from Monday until Friday next week. From Sunday, the pub will take donations of bread, margarine, sandwich meat/tuna/cheese, fruit and raisins, snack bars and packaged drinks. Any extra donations will be given to The LifeHouse.
In collaboration with United We Stand, the restaurant will be giving out 50 free children meals a day from Monday until Friday between 12pm and 1pm. Children must be accompanied by an adult for the walk-in service.
Player Ready Portsmouth – Virtual Reality & Escape Rooms, Bridge Shopping Centre
The team are giving away £1,500 worth of vouchers to be put in the free school lunch bags. Any business doing free lunch bags should contact via facebook.com/VRPortsmouth/
The club are offering 200 free packed lunches from its clubhouse (PO6 2HD) from 10.30am until 12.30pm on Saturday October 31.
The British Queen Pub, Buckland
Send a message to the pub via Facebook or call for a free kids lunch box between 11am and 1pm.
Toodles Tot Childminding, Southsea
Contact the team via Facebook to arrange a child's lunch box.
Baked by Beth, Portsmouth
Children will be able to eat free over half term with a paying adult.
The cafe has teamed up with The Parenting Network and will deliver free lunch boxes to children in need.
Eat in and takeaway options will be available from 10.30am on Monday on the third floor of the Central Library
If there are any local businesses that wish to be involved, please contact chris@lilyandlime.org.uk
Fareham
Hampshire Food Revolution
Gosport
Free lunch boxes for kids, Monday to Friday between 12pm and 5pm.
The charity is offering packed lunches for children every day next week between 1pm and 2pm.
The fish and chip shop will be offering free school meals. Head to their Facebook page for more details.
Between Monday and Friday, the fish and chip shop will offer a free hot meal and drink.
Waterlooville
The Village Bakery / The Rock Project, Waterlooville
Free packed lunches for children Monday until Friday. Send a Facebook message to either to order lunches. Collection from 142 London Road.
Havant
Between Monday and Sunday, the pub is offering free lunch packs and hot meals for children 12 and under.
Email Info@wheelwrightshavant.co.uk or call 02392 476502
Bishop's Waltham
The cafe is offering free lunches to school age children over half term. Message their Facebook page.
Free packed lunches from Wednesday to Friday.
Hampshire
The Thomas Lord, West Meon
Free lunch packs available to collect from the pub or enjoy in the pub with dining parents at lunchtime for any child. Free hot meals from the kids menu from 12pm until 2.30pm and 5.30pm and 7pm.
Email info@thethomaslord.co.uk or call 01730 829244
This bakery is providing 100 packed lunches over half term.
Lakaz Maman, Mauritian Street Kitchen, Southampton
The restaurant is offering free meals to under 16s next week.
Kuti's Brasserie, Southampton
Offering free hot meals to any child from 12pm until 2.30pm over half term.