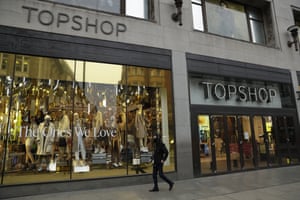 Good morning, and welcome to our rolling coverage of the world economy, the financial markets, the eurozone and business.
Thousands of Arcadia staff have woken up to an uncertain future after Sir Philip Green's retail empire fell into administration last night.
The group behind high street names like Topshop, Miss Selfridge, Burton and Evans became the biggest retail casualty since the pandemic began.
Deloitte are now in control of the company, whose problems – from a lack of investment to a failure to adapt to the online shopping world – predate Covid-19.
Deloitte plan to keep stores running while they look for "one or more buyers", which means branches in England should reopen tomorrow when the lockdown ends. It also suggests the group could be broken up, with some of its brands acquired by rivals.
So for 13,000 staff, it's an extremely worrying turn of events in the run-up to Christmas.
Usdaw, the retail trade union, says it is seeking urgent meetings with Arcadia's administrators in a bid to preserve jobs.
Dave Gill, Usdaw national officer, said:



"Now that Arcadia is in administration, it is crucial that the voice of staff is heard over the future of the business and that is best done through their trade union.

"We are seeking urgent meetings and need assurances on what efforts are being made to save jobs, the plan for stores to continue trading and the funding of the pension scheme.

"In the meantime, we are providing our members with the support and advice they need at this very difficult time."
Arcadia's collapse also raises fears that staff could lose a slice of their pensions, given there is a deficit of perhaps £350m in its pension scheme.
Pressure is on Sir Philip Green to clear the shortfall.
As my colleague Nils Pratley writes:



"Staff just want to know if, and how, Green plans to fill the deficit in Arcadia's pension schemes.

The main reason why a deficit in the pension fund has persisted over years is that the Greens extracted their famous £1.2bn dividend from Arcadia in 2005 which weakened its balance sheet and undermined its ability to make catch-up pension contributions in leaner trading years."
Arcadia's collapse could also have a very damaging impact on the wider UK retail space, with analysts estimating it could owe its suppliers up to £250m.
It also threatens to derail JD Sports' rescue bid for Debenhams, as some Arcadia brands, such as Miss Selfridge and Dorothy Perkins, are sold at concessions within Debenhams stores, providing an estimated £75m of sales.
The agenda
9am GMT: Eurozone manufacturing PMI for November
9.30am GMT: UK manufacturing PMI for November
10am GMT: Eurozone inflation for November
1.30pm GMT: Canadian GDP for Q3 2020
2.45pm GMT: US manufacturing PMI for November