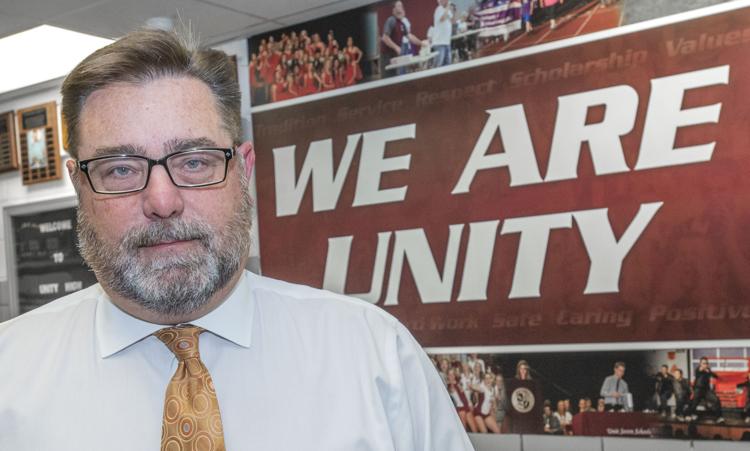 Before plastering the four rules of being a Rocket all over the high school and having them printed on every graduating senior's diploma, Unity Principal PHIL MORRISON asked the author for permission to use them.
"Hey Dad," the conversation began …
"I learned more about hard work and leadership from his examples than from anyone else," Morrison says. "He started a business from literally nothing — Phil's Foodway (grocery stores) and Cubby's (convenience stores) — in Omaha, Nebraska. I started work in the grocery stores when I was 13 and remained there until I went into teaching and coaching at the age of 22."
Working for Phil Sr. meant following the same set of rules Phil Jr. put in place in Tolono:
Be a good person. Dream big dreams. Work hard. Be persistent.
Now in his 19th year in the principal's office, the former football coach at Illinois Wesleyan and Nebraska's Dana College took time out to answer a few questions from Editor Jeff D'Alessio in the 47th installment of our weekly speed read spotlighting leaders of organizations big and small.
---
I can't live without my … wife. If you ask anyone who knows me, they will share with you that I have completely outkicked my coverage.
I jokingly bragged to my wife the other day that I didn't turn out too bad. She quickly replied: "That's because I raised you." No truer words have ever been spoken. She's the best.
The biggest business risk I ever took was … getting out of coaching college football, something I truly loved, to take a position as a high school teacher and coach. Later, becoming a high school administrator. I have never regretted that decision.
I'm frugal in that … I would rather spend money on others than myself. As a result, some of my possessions are a bit well-worn.
As far as the last luxury in which I indulged … well, I love to hunt waterfowl and upland game. So, I do have some really nice hunting dogs and a couple of nice shotguns.
My most recent acquisition is a Black Lab puppy that didn't come cheap, but he's a keeper. Maddon — named after Joe Maddon. Go Cubs.
My philosophy on meetings is … time is a valuable commodity for both teachers and coaches. At Unity, we try not to waste it.
We try to limit the number of distractions to instruction during the school day and if we need to meet we do, but not for the sake of meeting. Managing time effectively is essential in our business.
The most beneficial college experience I had was … playing four years of football at Dana College for Dr. Leo McKillip, a former college and professional football coach.
He played on two national championship teams under Frank Leahy at Notre Dame. Coach McKillip was a great man and a great leader. I learned a lot in the classroom but I grew up under him.
My exercise routine revolves around … working with my hunting dogs and hunting.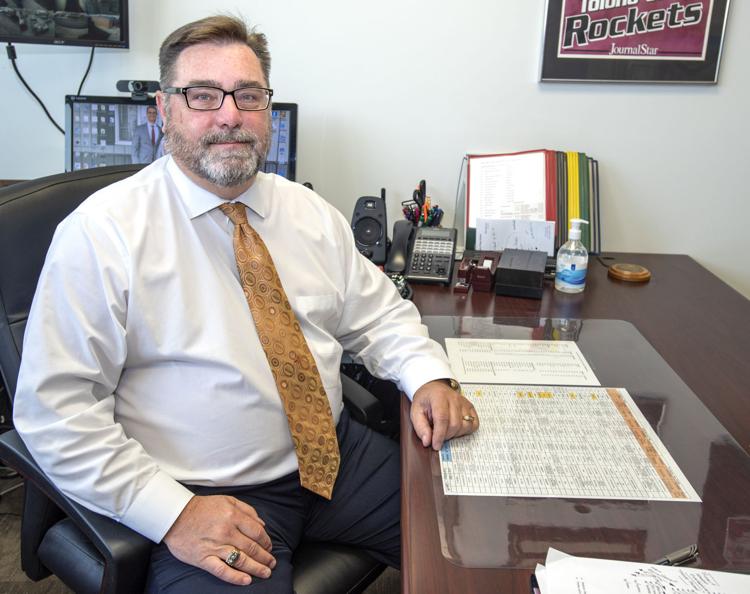 The hardest thing about being a leader is … the unexpected. I can assure you that I never took a class on having to deal with a worldwide pandemic. However, working together with a great group of teachers, a supportive administration and a wonderful board of education, we figured out what we believed would work best for our schools.
The worst job I ever had … filling vending bait machines. I had to drive all over the state filling these machines with worms and minnows.
Suffice it to say, my 1973 Buick Elektra didn't get very good gas mileage and the check didn't cover the cost.
When it comes to my favorite moment of all-time in this job … my predecessor and mentor, Don Akers, once told me that if I ever woke up and didn't want to come to work at Unity, I should find another job.
One, because Unity is a great school and you probably won't find a better one, and two, the teachers and students at Unity deserve your best. I've been here for over 20 years and have loved every day of it.
The rules for Unity teachers include … 1. Truly care about your students and show them. Make them better for having been in your classrooms. 2. Work hard. 3. Be professional. 4. Have a personality.
Ours is a service business, don't forget that.
On a 1-to-10 scale, the impact of the pandemic has been … an 8. It's not the end of the world but my heart really hurt for last year's seniors. They were denied an opportunity that many of us take for granted.